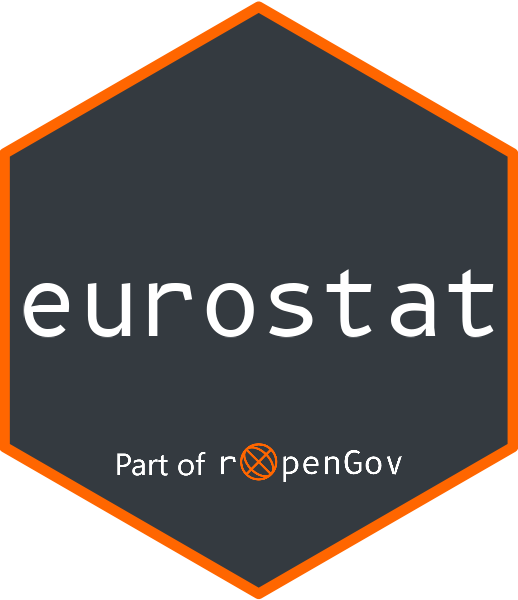 Map examples for the eurostat R package
2023-03-07
Source:
vignettes/articles/maps.Rmd
maps.Rmd
R Tools for Eurostat Open Data: maps
This rOpenGov R package provides tools to access Eurostat database, which you can also browse on-line for the data sets and documentation. For contact information and source code, see the package website.
See eurostat vignette for installation and basic use.
Maps
NOTE: we recommend to check also the giscoR package (https://dieghernan.github.io/giscoR/). This is another API package that provides R tools for Eurostat geographic data to support geospatial analysis and visualization.
Citations and related work
Citing the data sources
Eurostat data: cite Eurostat.
Administrative boundaries: cite EuroGeographics
Citing the eurostat R package
For main developers and contributors, see the package homepage.
This work can be freely used, modified and distributed under the BSD-2-clause (modified FreeBSD) license:

citation

(

"eurostat"

)




#> 




#> Kindly cite the eurostat R package as follows:




#> 




#>   (C) Leo Lahti, Janne Huovari, Markus Kainu, Przemyslaw Biecek.




#>   Retrieval and analysis of Eurostat open data with the eurostat




#>   package. R Journal 9(1):385-392, 2017. doi: 10.32614/RJ-2017-019




#>   Package URL: http://ropengov.github.io/eurostat Article URL:




#>   https://journal.r-project.org/archive/2017/RJ-2017-019/index.html




#> 




#> A BibTeX entry for LaTeX users is




#> 




#>   @Article{,




#>     title = {Retrieval and Analysis of Eurostat Open Data with the eurostat Package},




#>     author = {Leo Lahti and Janne Huovari and Markus Kainu and Przemyslaw Biecek},




#>     journal = {The R Journal},




#>     volume = {9},




#>     number = {1},




#>     pages = {385--392},




#>     year = {2017},




#>     doi = {10.32614/RJ-2017-019},




#>     url = {https://doi.org/10.32614/RJ-2017-019},




#>   }
Version info
This tutorial was created with

sessionInfo

(

)




#> R version 4.2.2 (2022-10-31)




#> Platform: x86_64-pc-linux-gnu (64-bit)




#> Running under: Ubuntu 22.04.2 LTS




#> 




#> Matrix products: default




#> BLAS:   /usr/lib/x86_64-linux-gnu/openblas-pthread/libblas.so.3




#> LAPACK: /usr/lib/x86_64-linux-gnu/openblas-pthread/libopenblasp-r0.3.20.so




#> 




#> locale:




#>  [1] LC_CTYPE=C.UTF-8       LC_NUMERIC=C           LC_TIME=C.UTF-8       




#>  [4] LC_COLLATE=C.UTF-8     LC_MONETARY=C.UTF-8    LC_MESSAGES=C.UTF-8   




#>  [7] LC_PAPER=C.UTF-8       LC_NAME=C              LC_ADDRESS=C          




#> [10] LC_TELEPHONE=C         LC_MEASUREMENT=C.UTF-8 LC_IDENTIFICATION=C   




#> 




#> attached base packages:




#> [1] stats     graphics  grDevices utils     datasets  methods   base     




#> 




#> other attached packages:




#> [1] ggplot2_3.4.1      RColorBrewer_1.1-3 tmap_3.3-3         sf_1.0-9          




#> [5] dplyr_1.1.0        eurostat_3.8.3    




#> 




#> loaded via a namespace (and not attached):




#>   [1] fs_1.6.1           bit64_4.0.5        lubridate_1.9.2   




#>   [4] httr_1.4.5         rprojroot_2.0.3    tools_4.2.2       




#>   [7] backports_1.4.1    bslib_0.4.2        utf8_1.2.3        




#>  [10] R6_2.5.1           KernSmooth_2.23-20 colorspace_2.1-0  




#>  [13] DBI_1.1.3          raster_3.6-14      withr_2.5.0       




#>  [16] sp_1.6-0           tidyselect_1.2.0   leaflet_2.1.1     




#>  [19] bit_4.0.5          curl_5.0.0         compiler_4.2.2    




#>  [22] leafem_0.2.0       textshaping_0.3.6  cli_3.6.0         




#>  [25] Cairo_1.6-0        xml2_1.3.3         desc_1.4.2        




#>  [28] sass_0.4.5         scales_1.2.1       classInt_0.4-9    




#>  [31] readr_2.1.4        proxy_0.4-27       pkgdown_2.0.7     




#>  [34] systemfonts_1.0.4  stringr_1.5.0      digest_0.6.31     




#>  [37] rmarkdown_2.20     base64enc_0.1-3    dichromat_2.0-0.1 




#>  [40] pkgconfig_2.0.3    htmltools_0.5.4    bibtex_0.5.1      




#>  [43] highr_0.10         fastmap_1.1.1      htmlwidgets_1.6.1 




#>  [46] rlang_1.0.6        readxl_1.4.2       farver_2.1.1      




#>  [49] jquerylib_0.1.4    generics_0.1.3     jsonlite_1.8.4    




#>  [52] vroom_1.6.1        crosstalk_1.2.0    magrittr_2.0.3    




#>  [55] s2_1.1.2           munsell_0.5.0      Rcpp_1.0.10       




#>  [58] fansi_1.0.4        abind_1.4-5        RefManageR_1.4.0  




#>  [61] lifecycle_1.0.3    terra_1.7-3        stringi_1.7.12    




#>  [64] leafsync_0.1.0     yaml_2.3.7         tmaptools_3.1-1   




#>  [67] plyr_1.8.8         grid_4.2.2         parallel_4.2.2    




#>  [70] crayon_1.5.2       regions_0.1.8      lattice_0.20-45   




#>  [73] stars_0.6-0        hms_1.1.2          knitr_1.42        




#>  [76] pillar_1.8.1       ISOweek_0.6-2      codetools_0.2-18  




#>  [79] wk_0.7.1           XML_3.99-0.13      glue_1.6.2        




#>  [82] evaluate_0.20      vctrs_0.5.2        png_0.1-8         




#>  [85] tzdb_0.3.0         cellranger_1.1.0   gtable_0.3.1      




#>  [88] purrr_1.0.1        tidyr_1.3.0        assertthat_0.2.1  




#>  [91] cachem_1.0.7       xfun_0.37          mime_0.12         




#>  [94] lwgeom_0.2-11      broom_1.0.3        countrycode_1.4.0 




#>  [97] e1071_1.7-13       ragg_1.2.5         class_7.3-20      




#> [100] viridisLite_0.4.1  tibble_3.1.8       memoise_2.0.1     




#> [103] units_0.8-1        timechange_0.2.0   ellipsis_0.3.2    




#> [106] here_1.0.1